The first quarter of 2022 is behind us and Incentive Plan results are in for Q1. The NOAH team was collaborative and successfully exceeded incentive goals in two of the three areas!
A requirement of receiving Incentive Plan payments, however, is meeting a 3% Operating Margin based on the revenue generated throughout the quarter and unfortunately NOAH did not meet our 3% Operating Margin. Our Chief Financial Officer Julia Karl explains about all of this in her article Operating Margin 101. Therefore, quarterly incentive payments will not be made for Q1.
Below are details on our Q1 performance and progress. Please reach out to any member of the Incentive Committee listed at the bottom with any questions or suggestions about the incentive plan.
Integrated Care – Met/Exceeded Goal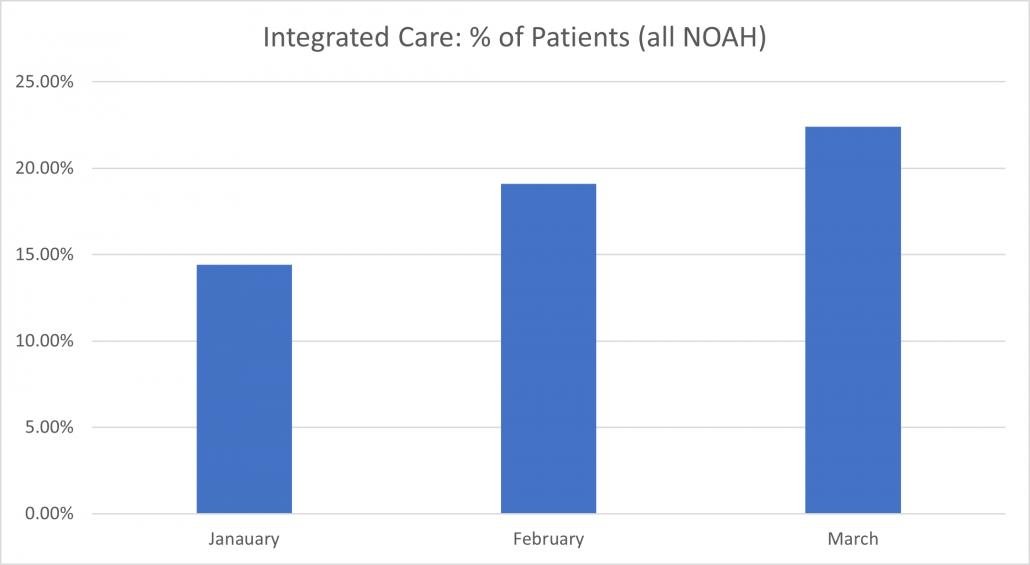 Q1 Goal – 17%; Q1 Actual – 22.4%
NOAH Efforts for Integrated Care:

Director of Specialty Operations, Annette Betancur leads Integrated Care Measure Subgroup comprised of leadership from Medical, BH, Nutrition, and Quality Improvement to maximize impact on our integrated measure.

Director of Clinical Quality Improvement, Chris Sweeney led Quality Improvement exercise to identify actionable items. Completed initial work including a prioritization matrix.

In Process: increasing provider buy-in, developing marketing materials, reviewing/enhancing check-out process, etc.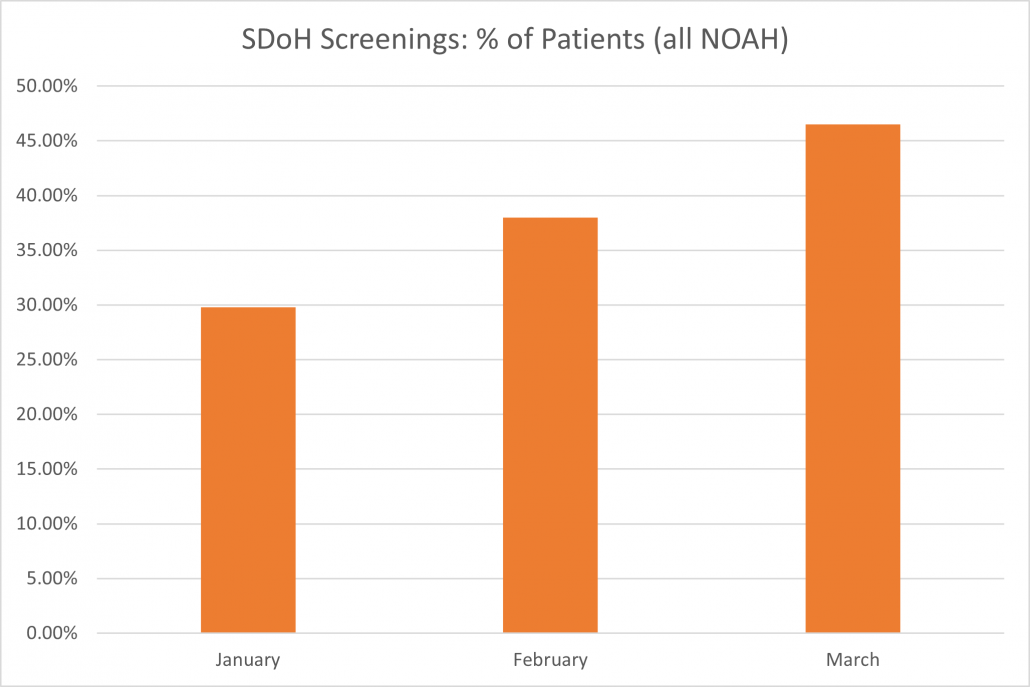 SDoH Food Insecurity Screening – Met/Exceeded Goal
Q1 Goal – 40%; Q1 Actual = 46.5%
NOAH Efforts for Food Insecurity Screenings:

A Champions Teams was formed with representation from each service line to help with screening efforts.
Request was made to allow all service lines to have access to SDoH screening wheel on their service boards.
Decision made to update UDS to include SDoH questions about food, housing, transportation, and financial needs.
Quality Measures – Goal Not Meet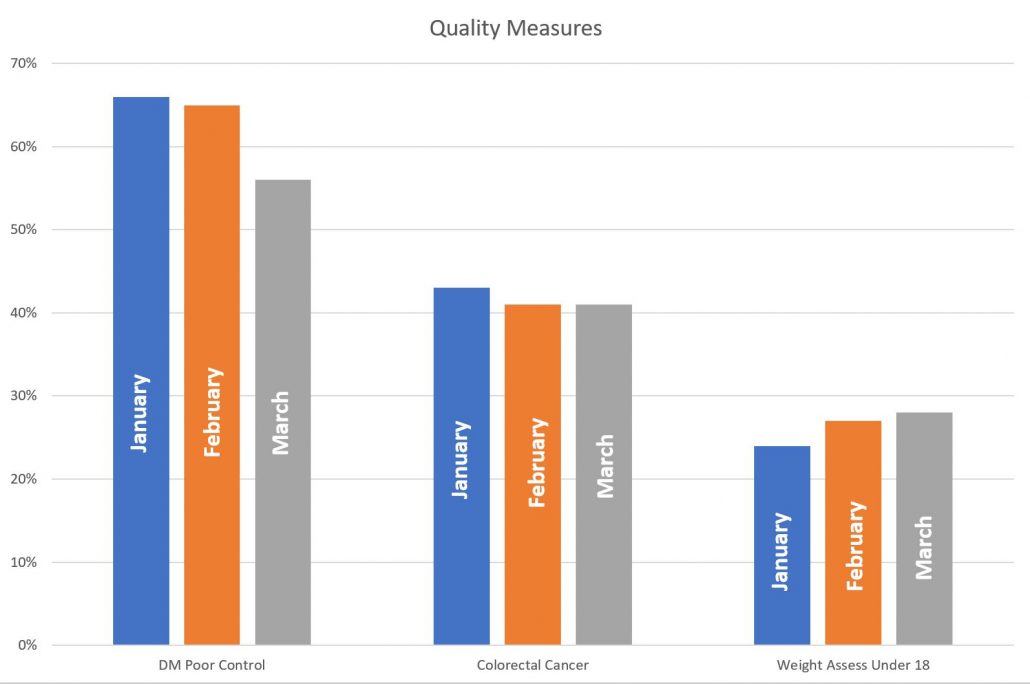 Diabetic Management Poor Control: Q1 Goal – under 40%; Q1 Actual – 56%
Colorectal Cancer Screening: Q1 Goal – 45%; Q1 Actual – 41%
BMI Screening Children/Adolescent: Q1 Goal – 60%; Q1 Actual – 28%
NOAH Efforts for Quality Measures:

Created one team focused on Quality Measure to streamline efforts between Incentive and Strategic Plans and report out.

Assigned one person to own each quality metric progress.

Colorectal screening campaign in the month of March.

Creating tip sheets to be disseminated to providers and MAs.

Colorectal screening program piloted at Midtown with 20-25% return rate.

Weekend nurse triage team contacting patients who have diabetes and have not had A1C in 6 months. Setting up virtual care labs, medications and follow-up appointments.
Incentive Plan Committee Members
The Incentive Committee has broad representation from all departments at NOAH. If you have any questions or suggestions regarding the Incentive Plan, please connect with the Incentive Plan Committee Member from your department.
Wendy Armendariz, CEO
Stephanie Olzinski, Dietitian Supervisor
Brooke Dyrhaug, Patient Experience Coach Analyst
Michael Pearson, Director of Marketing & Engagement
Perla Avila, Community Resource Manager
Brandy Riviezzo, BI Manager
Annette Betancur, Special Operations Director
Michelle Rehnberg, Practice Manager
Katelyn Millinor, Behavioral Health Quality Manager
Katrina Zamora, Scheduling Supervisor
Laura Redondo, Medical Records Supervisor
Dino Batanovic, Practice Manager
Margaret Wagner Smith, Senior Executive Assistant
Nicole Zahri, Behavioral Health Counselor
Denise Pasillas, Front Officer Supervisor
Dr. Jennifer Vanyo-Novak, Medical Director
Chris Sweeney, Director of Clinical Quality Improvement
Kerry Nickerson, Director of Population Health Management
Dr. Amit Jain, Pediatrician
Yadira Placencia, Registration/Scheduling Team
Victoria Terpstra, Project Specialist
Lauren Gonzalez, Front Office Supervisor
Nicole James, Director of Advanced Practice
Joy Golden, Behavioral Health Clinical Manager
Malikha Rankin, RN Manager – Nurse Navigation
Dr. Daniel Davis, Physician
Leslie Pina, Registration/Scheduling Team
Krystal Lamb, Project Specialist
Chris Devine, BI Analyst
Samantha Currier, Nurse Practitioner
Katy Reeve, Marketing & Communications Manager
Cristi Payne, Nurse Navigator
Diana Cardenas-Brito, MA II
Dr. Linda Eller, Physician
Sandy Gonzalez, Project Specialist