You asked for it and we answered! NOAH's HR team is launching a new learning management system called Mineral Platform! Mineral Platform allows NOAH team members the opportunity to complete professional and leadership development trainings to help you take ownership of your development wherever it works for you!
Getting Started with Mineral Platform
On Friday, June 24, NOAH staff members will receive a "Welcome" email like the one below asking you to set-up your account with Mineral Platform.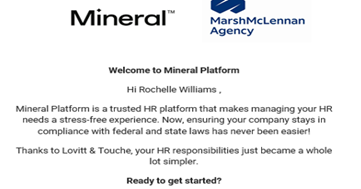 Once you are enrolled you will be able to access our course catalogue which is broken out in nine areas, including:
Customer Service
Professional Development
Computer & IT
Human Resources
Workplace Safety
Environment & Climate
Harassment
Compliance & Legal
Pandemic Response
This is an exciting opportunity for all NOAH team members to be able to enhance current skills.
Remember: Mineral Platform is only for professional and leadership development, it does not replace Paycom for compliance trainings (HIPAA, Harassment, etc.).
If you need assistance with Mineral, please contact Rochelle William. Happy learning!